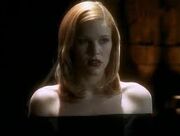 Essie Rachimova

Full Name:

Essie Rachimova

Gender:

Female

Species:

Vampire

Status:

Alive

First Episode Seen:

Rules are Rules (S1, E1)

Last Episode Seen:

Vampire's Patient (S1, E26)

Portrayed By:

Karen Cliche

Vampire. One of the five "night students" at Mansbridge Academy selected to take part in the Mansbridge Experiment. Essie is blonde, glamorous, and of royal lineage. She was in fact once a member of the Russian Royal Court prior to the Revelution, and even knew the last Emperor and Empress, Nicholas II and Alexandra, as well as the infamous Gregori Rasputin, all of whom she claimed were vampires. She develops an awkward and turbulent relationship with Karl Todman. Essie has the power of hypnotic suggestion, sometimes using this power to wipe the memories of people who accidentally witness the vampires' activities.